We asked a few friends to help us out with some last minute Mother's Day fun! And we have two new PJ styles arriving today! thanks to: Kate from Porchlight, Bri and Dawn from Allegory Salon, Cari at @carirosno. And our friends Alex, Annika and Lauren for jumping in to help!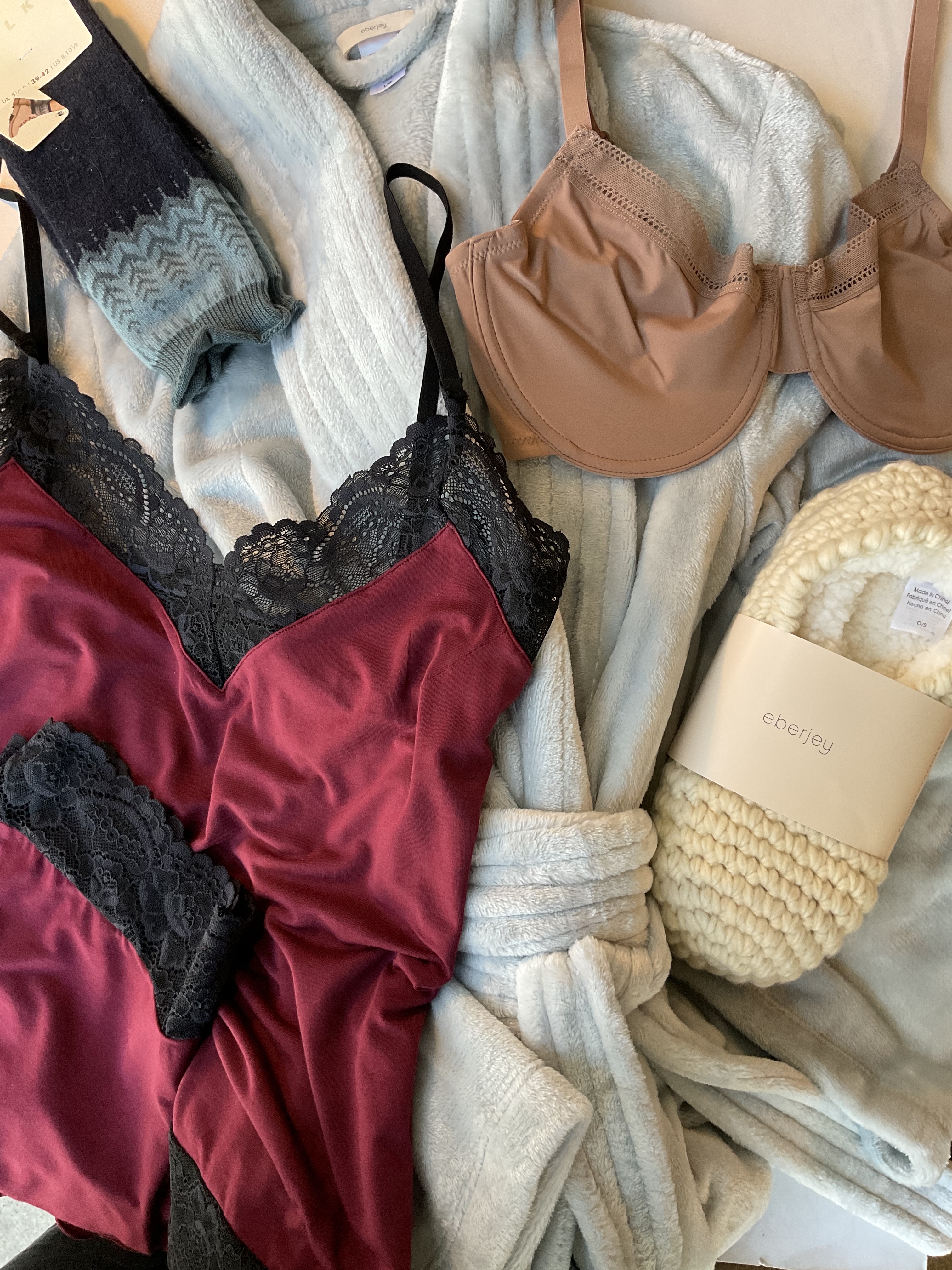 Annika's Picks

Eberjey chalet robe $148, Samantha Chang cami and short $75/$68, Eberjey slipper socks $44, Falke cozy socks $28, Else nano bra $90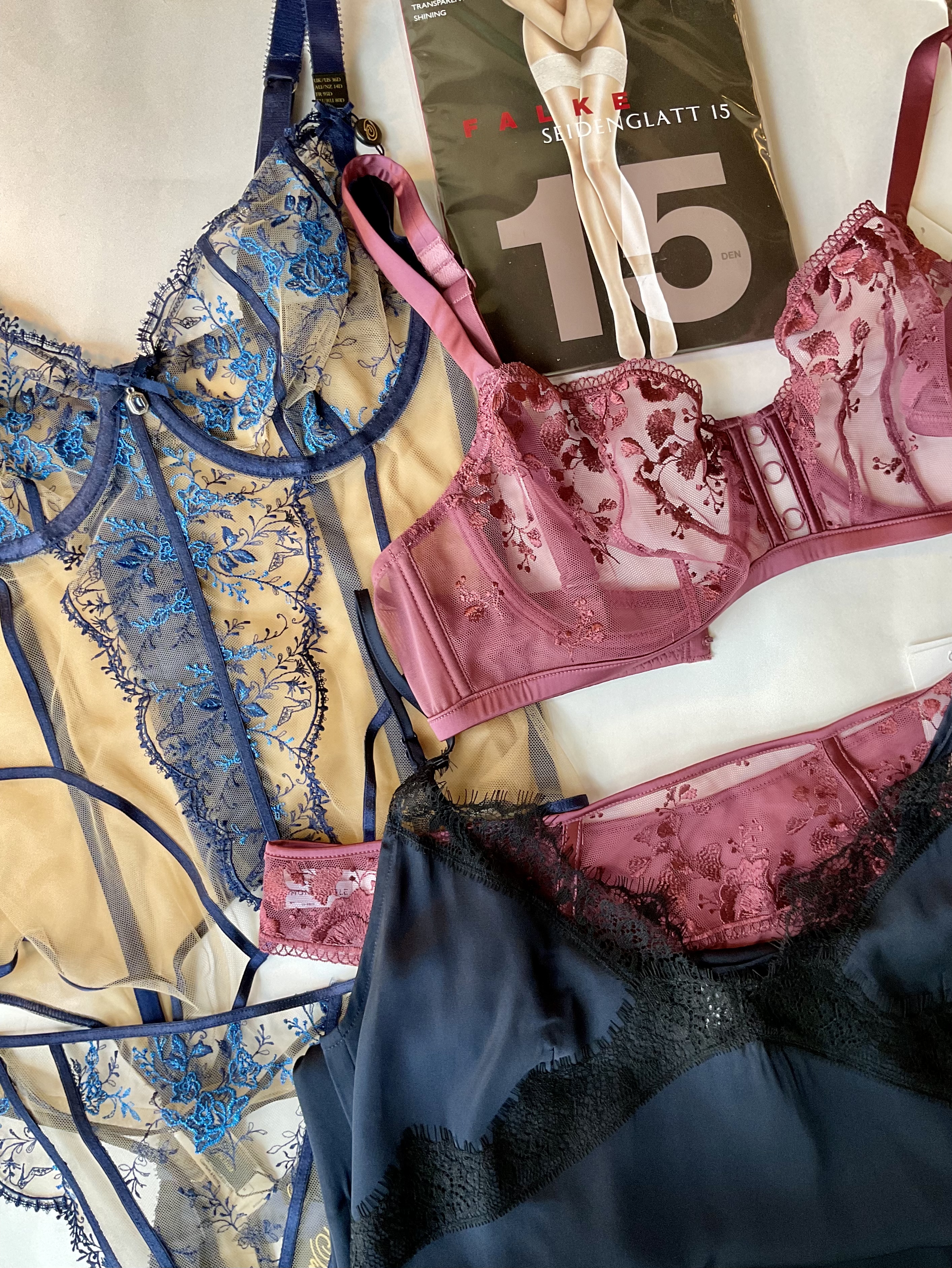 Lauren's Picks

Dita von Teese basque and thong $185/$55, Simone Pérèle orphee bra and panty $110/$60, Simone Pérèle silky chemise in nocturne $125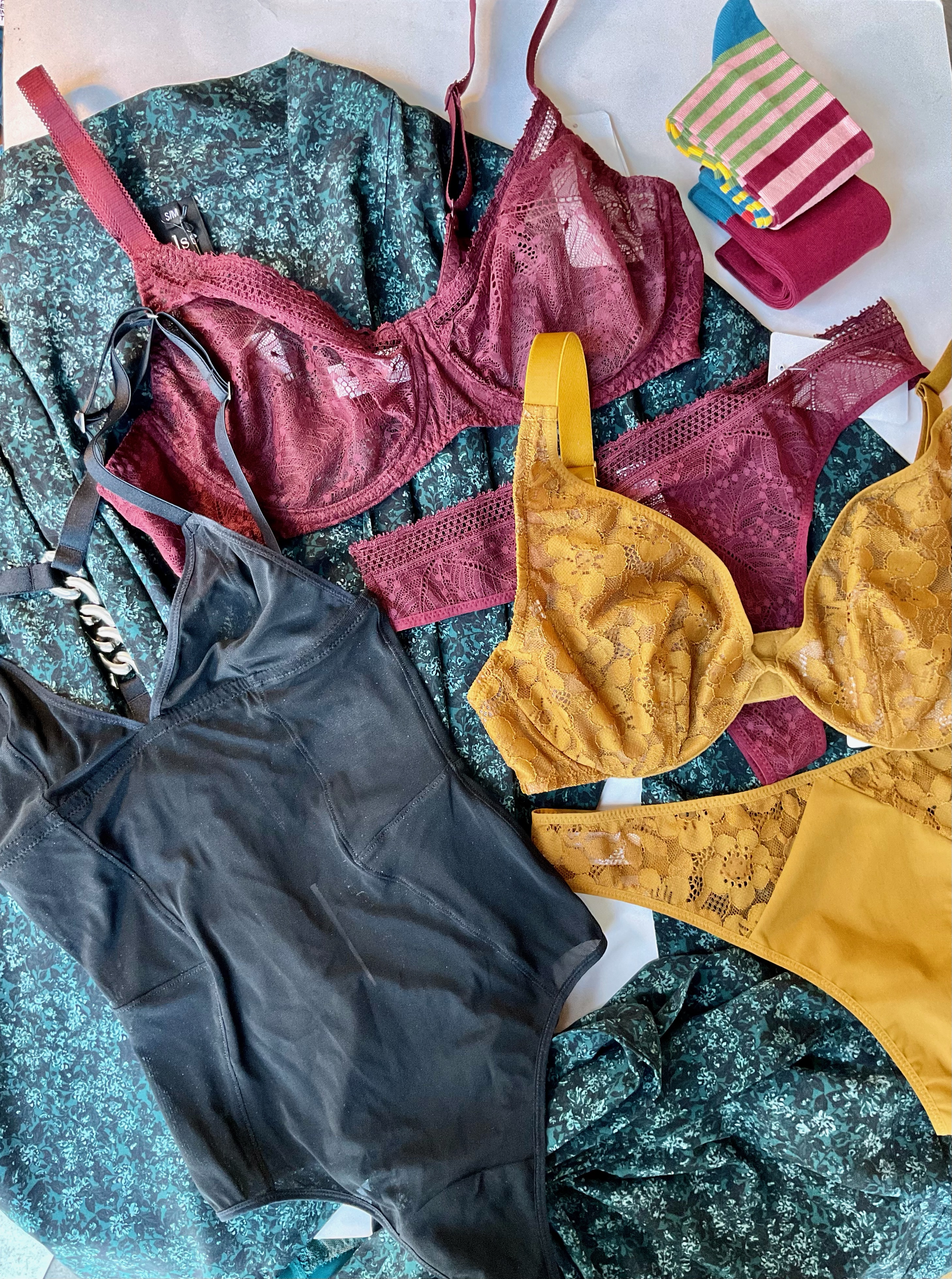 Heather's Picks

Else silk robe $285, Simone Pérèle comete bra and panty $110/$46, Simone Pérèle gold bra and thong $90/$39, Paloma Casile Jenny bodysuit, $200, striped socks set $16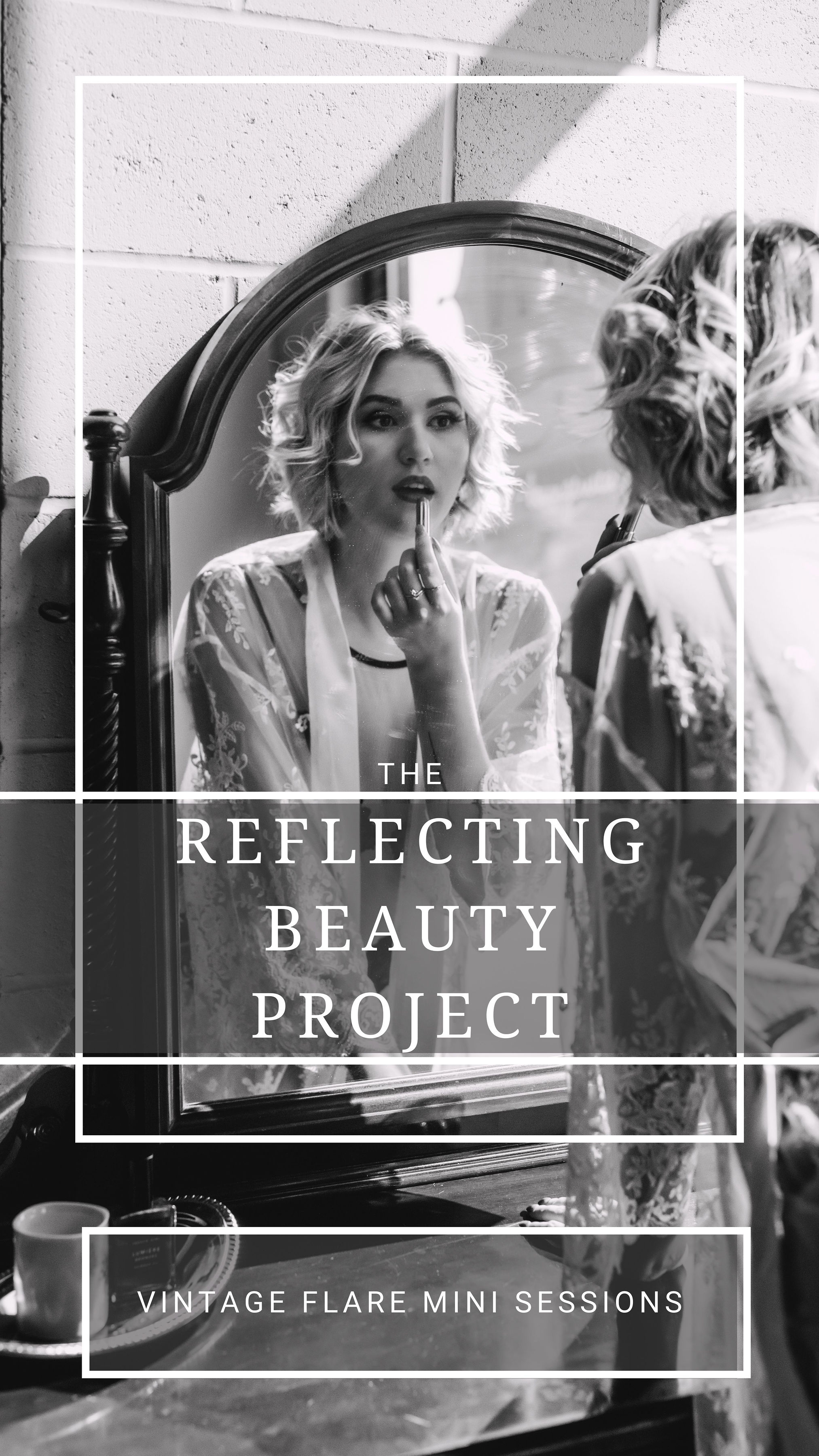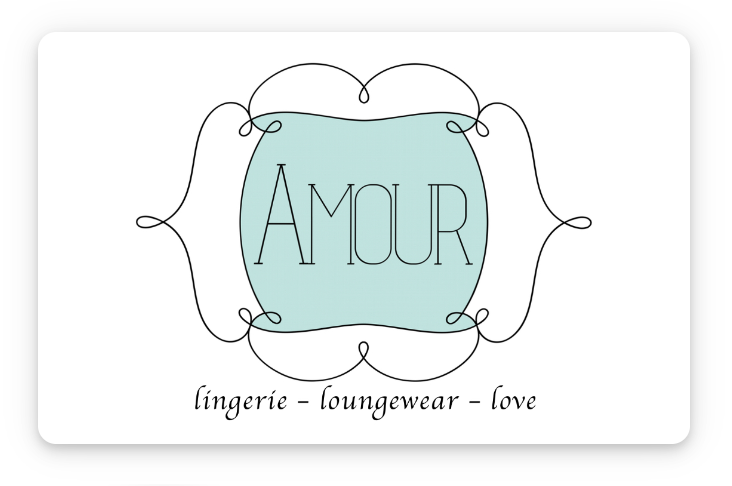 Need that last minute gift right now?
Purchase an e-gift certificate.
We'll send you or the gift recipient a specially designed email. The gift amount can be in any amount you choose.
Now it's easy to give last minute gifts. All you need is the person's email address. You can even schedule a specific date in the future for delivery of the gift certificate.
Amour Holiday Cozy-at-Home Box
A classic sleepshirt, panty, and herbal sachet.
We designed this gift box to be simply perfect for a sister, a daughter, or a mom. Made of a sustainable and slightly cooling modal, it's both comfy and irresistible. Choose sorbet or black, and we will pair it with a pretty panty as well as a lovely smelling drawer/ bath sachet from a local herbalist to make your drawer or your bath smell wonderful.
A classic Eberjey sleepshirt made of modal in either black or pink sorbet
A pretty panty in small, medium, or large
A drawer or bath sachet filled with lovely smelling herbs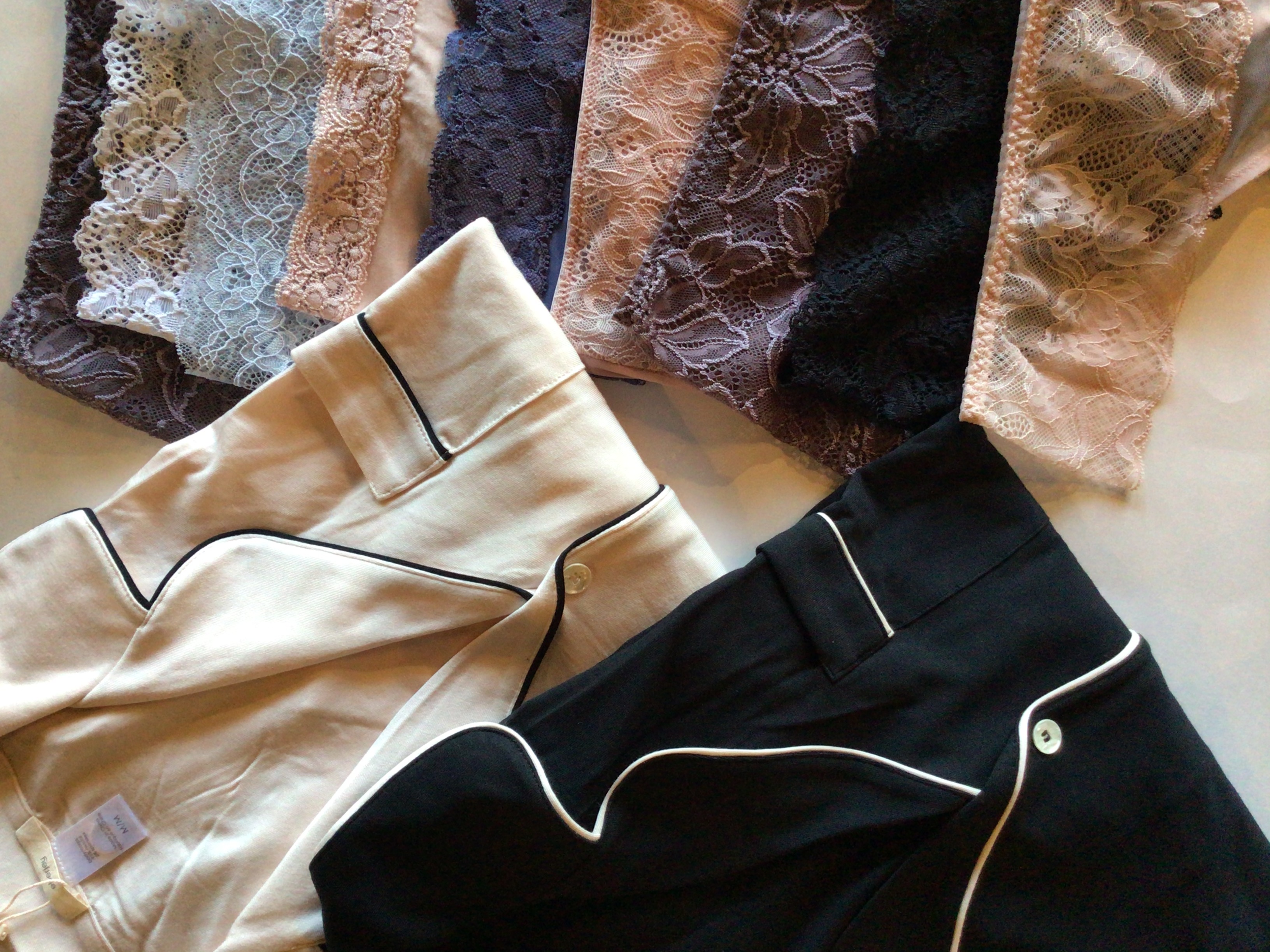 Sleepshirt in both colors and panties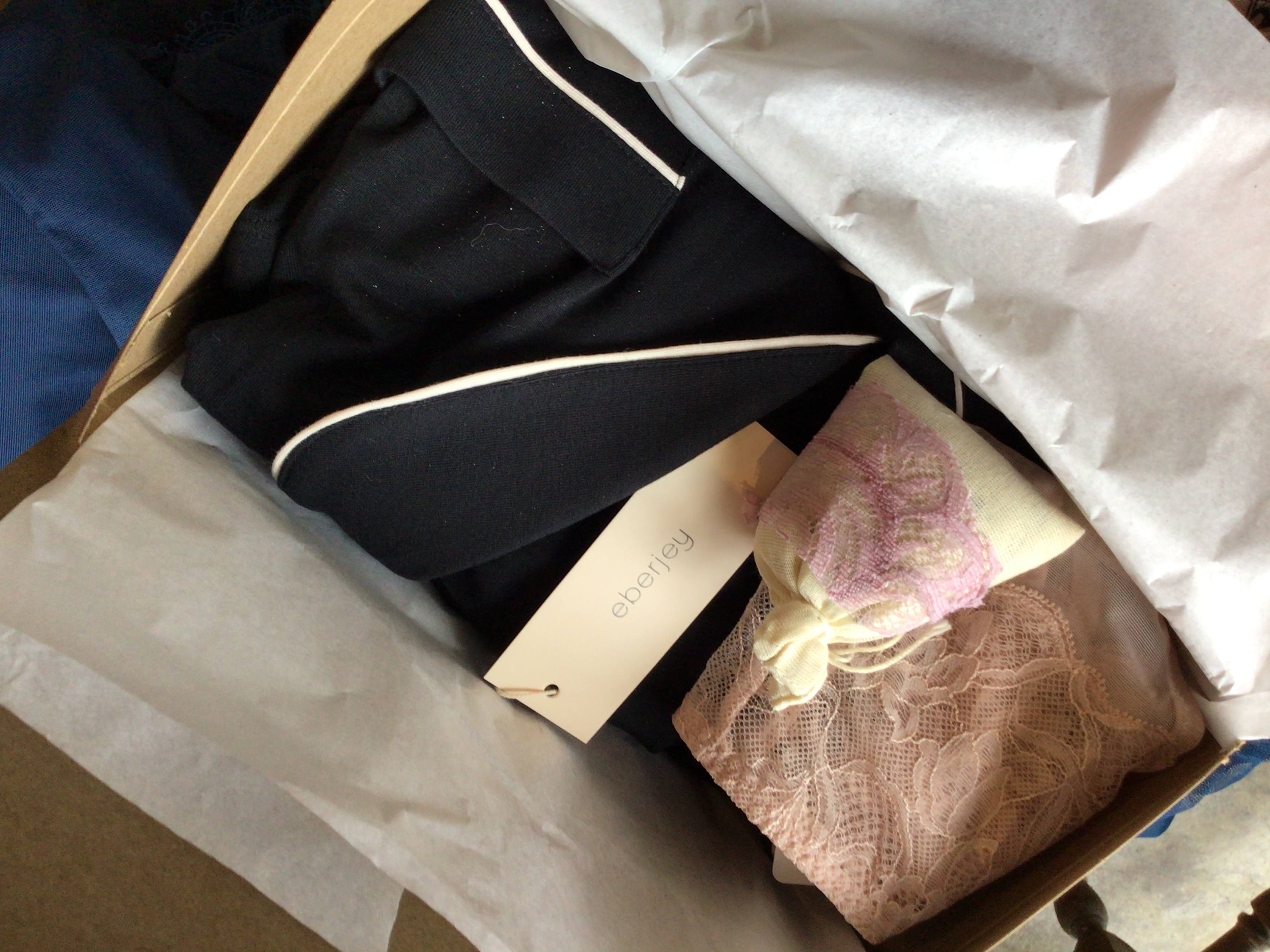 Sleepshirt in black, panty, and sachet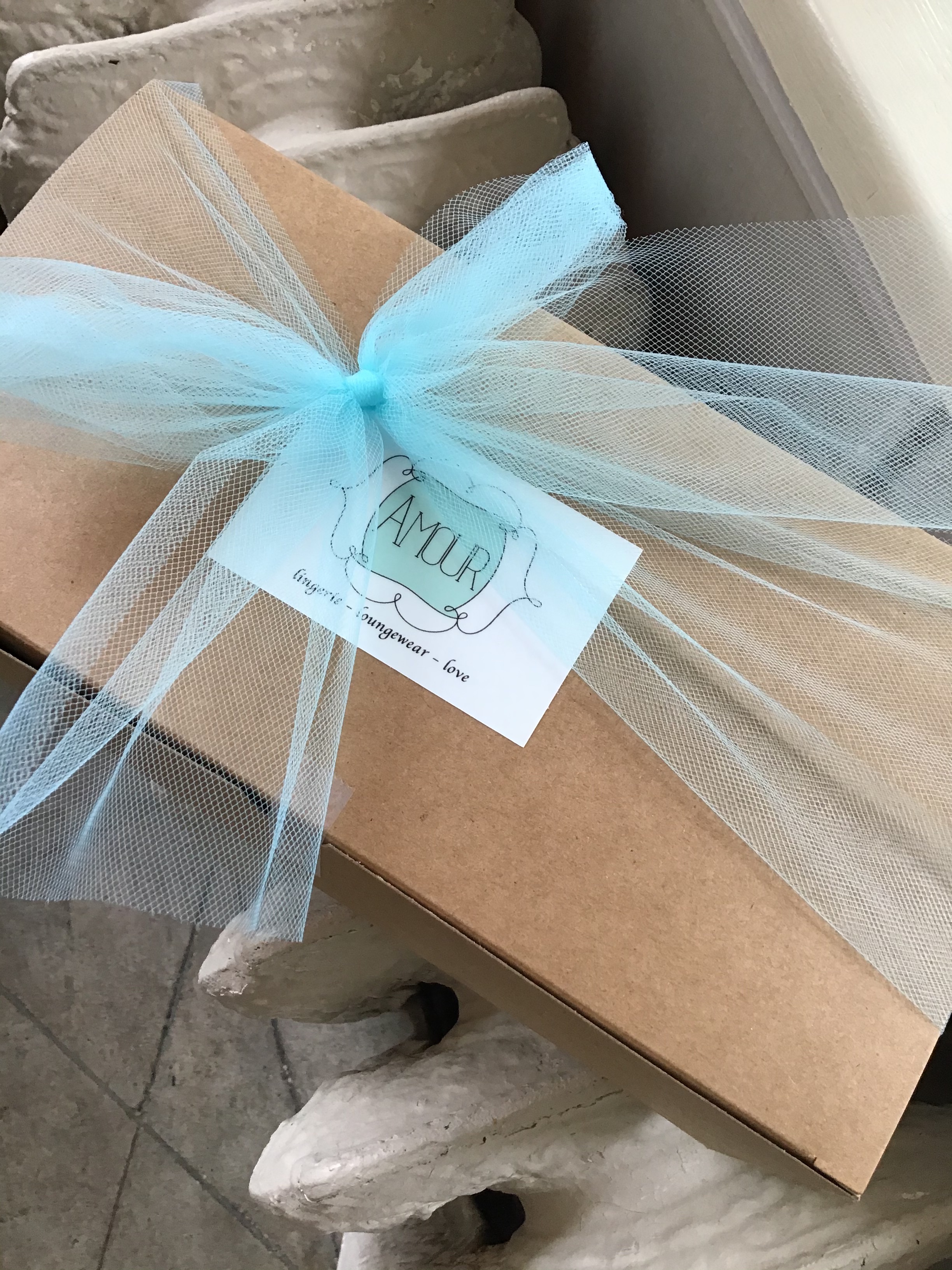 Holiday Cozy-at-Home Gift Box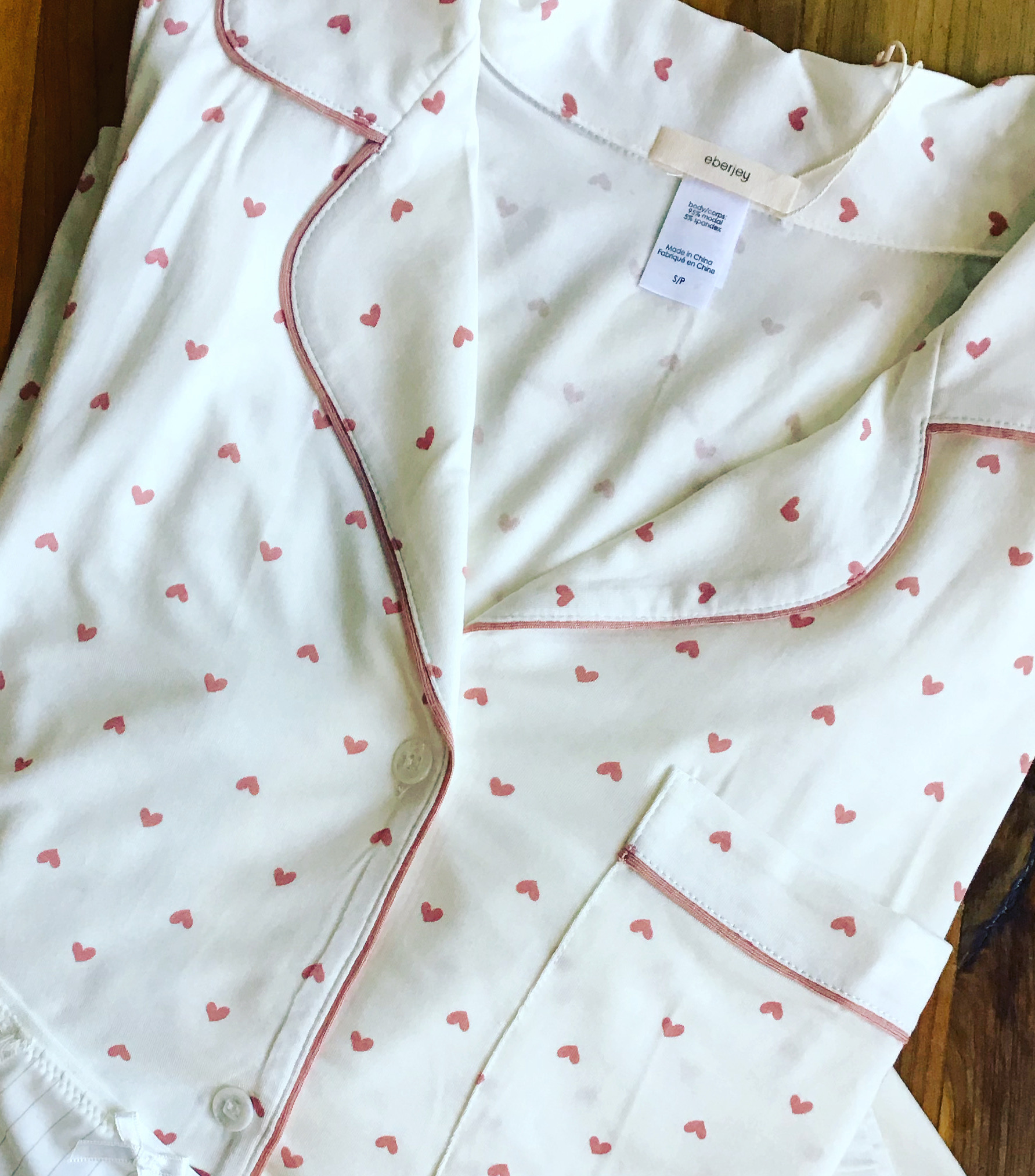 Cuddling - November 18
It's a PJ party! All day on November 18th, buy any pajama/lounge set and get a gift card for $25 to use on your next visit! It's always nice to have new PJs for cuddling during the holidays! This offer is good for in store purchase or you can shop our Instagram and get curbside pick-up or mail delivery.
Hibernating - November 25
Not open for Promenade tonight! BUT. . .Buy a gift certificate on our website for $100 or more (your mom, your sister, your partner will thank you), and we'll send you and extra $20 gift card to use as a stocking stuffer or for yourself! Win-Win!
Loving - December 2
Free gift with purchase! We'll have a little local beverage love as a gift with purchase tonight because we like to support our friends and neighbors too. Choose coffee or tea gift.
Tempting - December 9
Cassie of Modern Boudoir will be in the shop to answer questions about boudoir photography and will be giving away a $200 gift card toward a boudoir session. We will throw in a $50 gift card as well to use on lingerie for the shoot.
Embracing - December 16
Time to get your gift on. All lingerie, all day is 10% off.
Relaxing - December 23
We're getting ready to relax and so are you! This is your last day to purchase a gift. Open 11 a.m. to 7 p.m.
We're doing more celebrating and snuggling at home this year. So to celebrate our anniversary, in lieu of a big party, we have put together a collection of carefully curated gift boxes. Hygge, pronounced "hoo-ga," is a Danish concept that encompasses a feeling of cozy contentment and well-being through enjoying the simple things in life. Our Anniversary Hygge Gift Box is perfect for yourself or for anyone who might need a little pick-me-up, self-care or love right now—and who couldn't?
You can pick up these feel-good boxes—all packaged with a special sticker and our signature tulle ribbon—in the store or you can purchase them on the website and we will mail them for you. Enjoy our favorite sherpa lined slipper socks, some oh-so-easy one-size-fits-most undies from Natori, and an apothecary treasure for your lips that introduces an organic/wildcrafted beauty line called French Girl at Amour. With charming color names like Violette and Veronique, you'll hardly find me without one of these French Girl lip tints in my pocket.
Wishing you much comfort and coziness as we move into winter!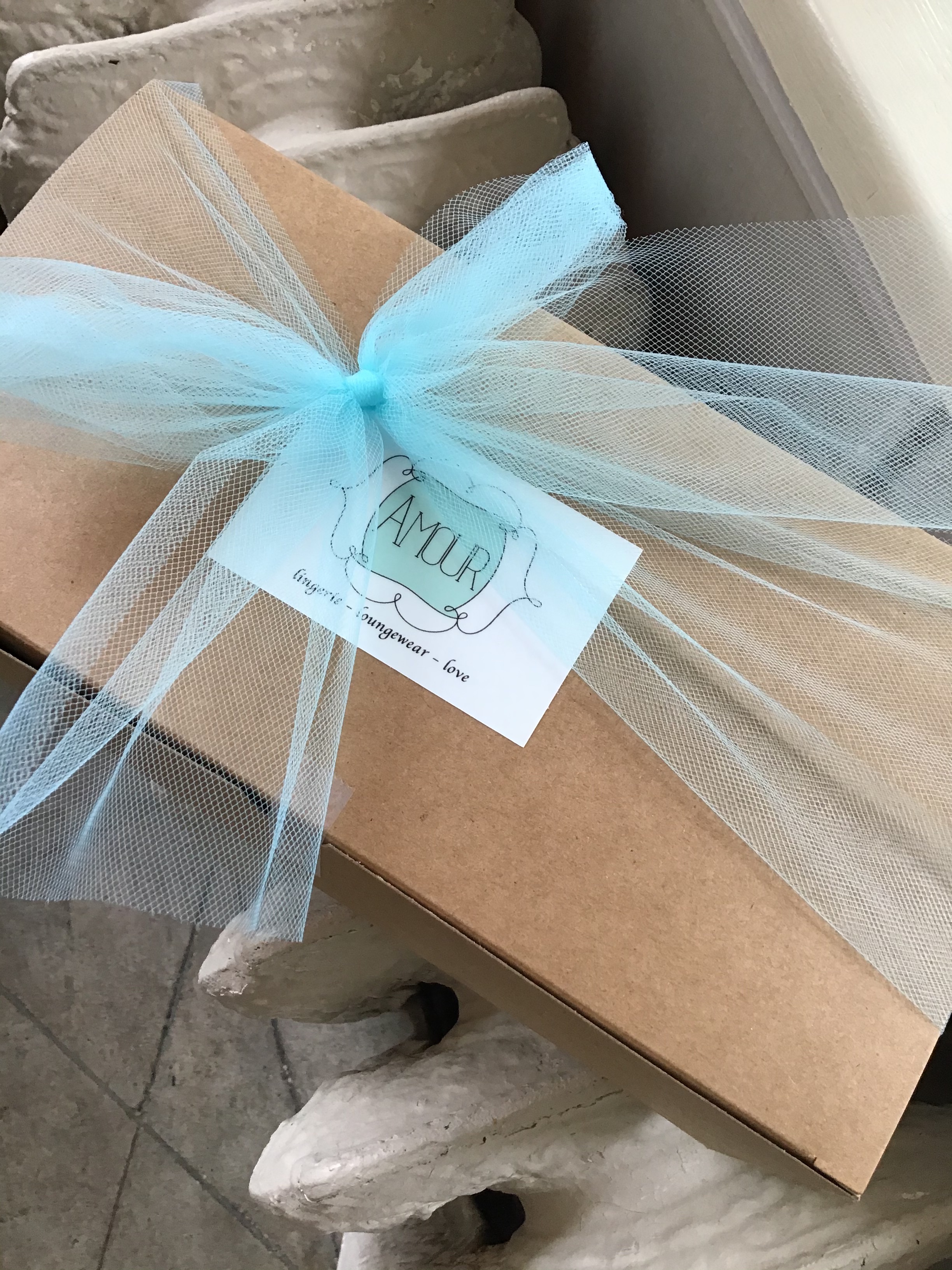 Hygge Gift Box
It's been a while. A lot has happened.
First came the COVID pandemic. Then came the wrongful deaths of George Floyd, Breonna Taylor, and others. What we're facing, individually and collectively, is forcing us to look at our lives and our culture with new eyes.
"Love more" is our motto. It's also a grounding principle. So when I get stuck, I return to the question: where is love here? And now? And again? What are the loving (and safe) actions during a pandemic? What feels like love to the people who are deeply affected by these events? How do we love the people who don't agree or understand so we can bring them along? And can we get big enough to hold all of it and be clear about it without shaming, denying, collapsing?
For us, engaging with our community has been crucial—from attending city council meetings to showing up at peaceful protests to choosing local restaurants and businesses whenever possible. And also resting. 😊 We hope you are finding routes to action and well-being as well.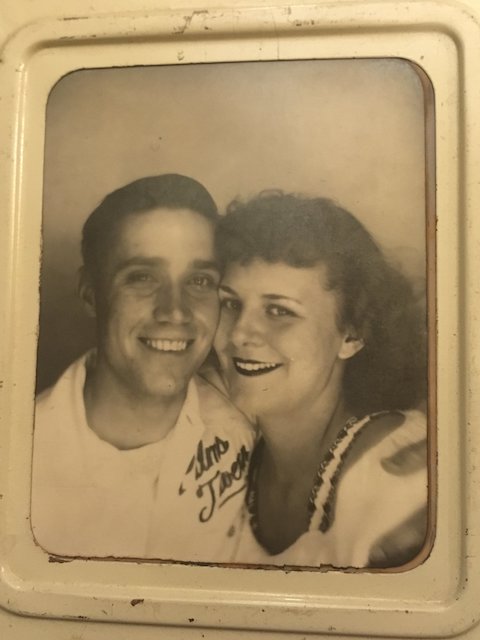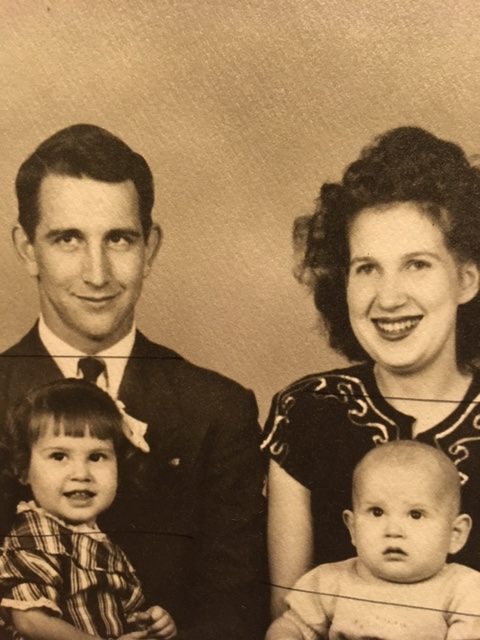 These are two of our favorite photographs: my grandparents and my husband's grandparents (who eloped!) These photos remind us of what love creates. Love creates family. It also creates art, music, life, adventure. We all have our unique love stories. We're writing them now and today and tomorrow.
We have a pretty active Instagram page. We try to be an inviting presence showing many different bodies, poses, and expressions of beauty. But one of my favorite things about the Instagram page is the pictures we don't post. It's the pictures people post and tag us in. These photos speak to how and in what context they feel most beautiful or sexy or easeful in their body. I can tell my story; however on that page other people tell their story and how it intersects with ours. And when we combine them, we create a larger picture of what is sexy, what is beautiful, what is truthful, what it means to love ourselves and each other.
Recently, I helped a man shopping for his wife. He seemed a bit unsure, so I asked a few questions about her size and what she liked. The puzzling question was: Does she like see-through? He wasn't sure. (And that's totally okay.) We found something for him to take home. The next week, he came back to exchange what he bought. When I saw him walk in, I was worried. We are truly invested in a gift-buyer's success; we want them to knock it out of the park. He said the size wasn't right. But then his face lit up a little. "She said she likes see-through." He picked out something else (and it was a success!) This makes me so happy. Not so much for the lingerie specifically, but that it created a conversation, a little intimacy, and hopefully a little love story.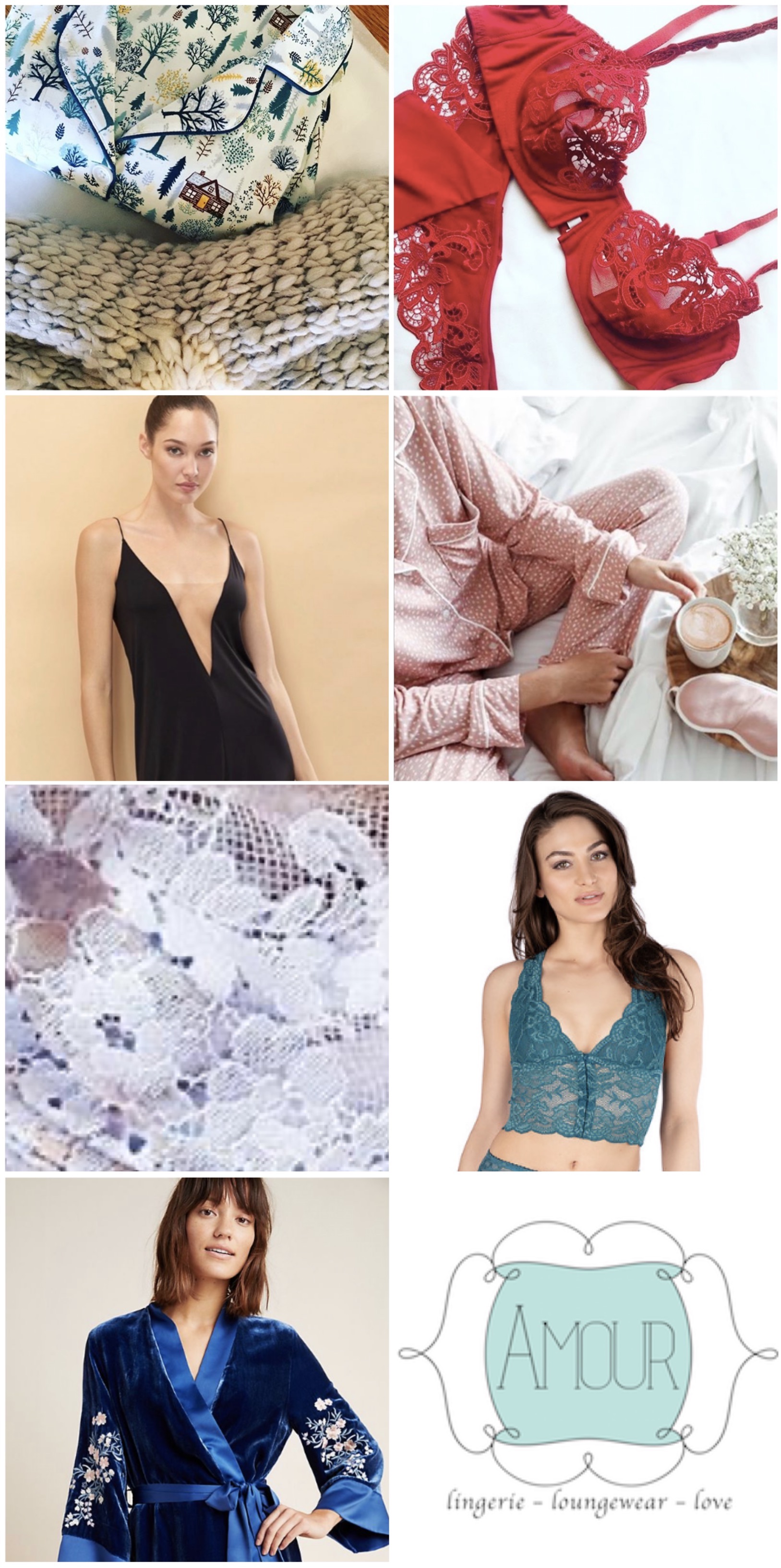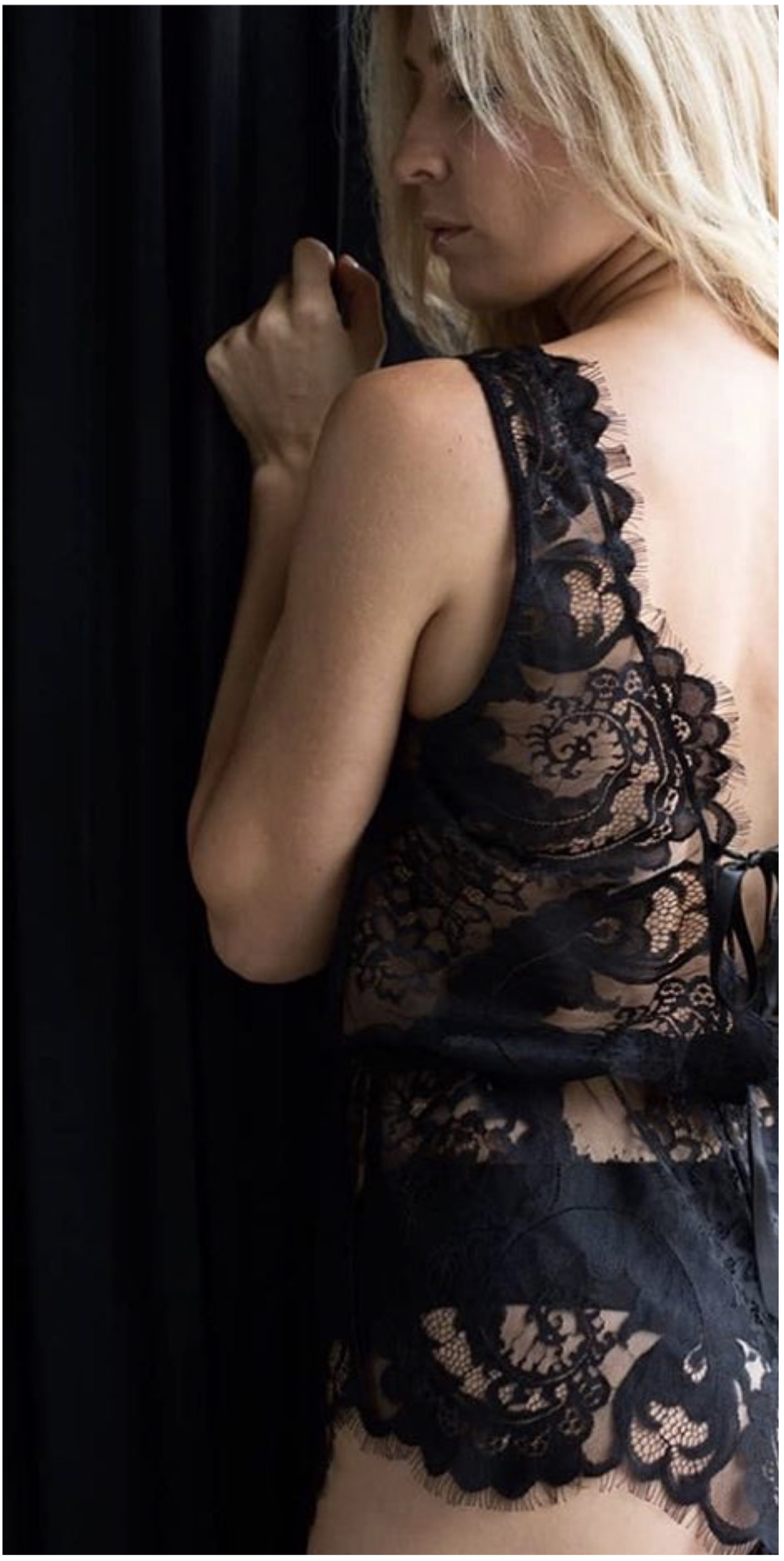 Cabin in the Woods PJs and Eberjey Slipper Socks; Simone Pérèle bra and panty; Ajour romper; Natori slip; Eberjey PJs; Clo Fortuna bralette and panty; Sakura robe; Amour Gift Certifcate; Panache bra and panty; iCollection bra and panty; Eberjey star PJs